Want to get your customers to read (and engage with) your emails? Graphics are the perfect addition to any email, and GIFs are the latest trend to consider in your email marketing strategy.
EDITOR'S NOTE: This article was originally published in 2016, and has since been updated in November 2021
Adding a GIF in Outlook (to your email signature, or email body) is a pretty easy process (Note: I carried out this process in the Outlook 2016 desktop app).
Adding a GIF in Outlook
1. Find your GIF (using Giphy.com or simply by Googling it, here's one I prepared earlier). You can also make your own GIF from a video (using Giphy, here).
2. Right click on it, and select Save Picture As (check that you're saving it in .gif format!)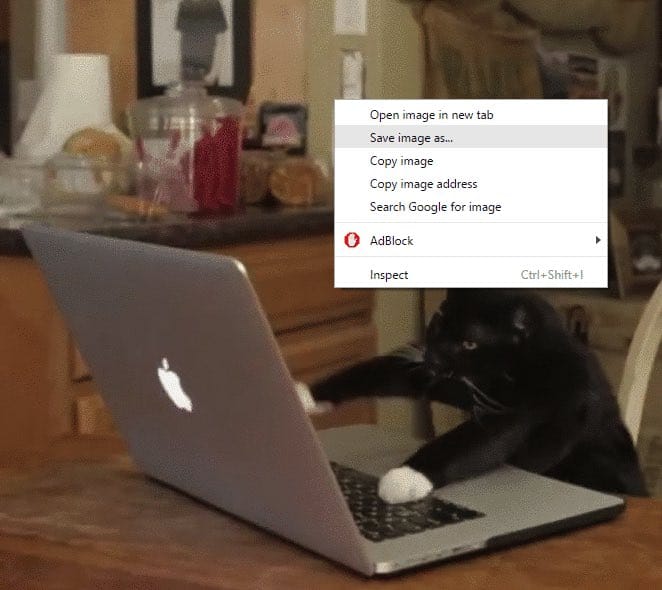 3. Name it, and click Save.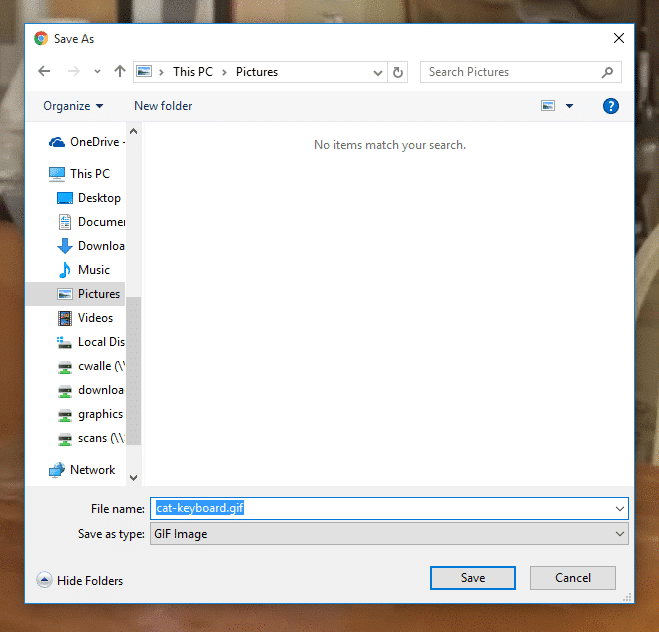 4. Open your version of Microsoft Outlook.
5. Go to the Home tab and select New > New Email to compose your email.

Adding the GIF to your Outlook Email Signature
6. On the Message tab, choose Signature > Edit Signatures.

7. Under Edit Signature, choose New, and in the New Signature dialog box, type a name for the signature.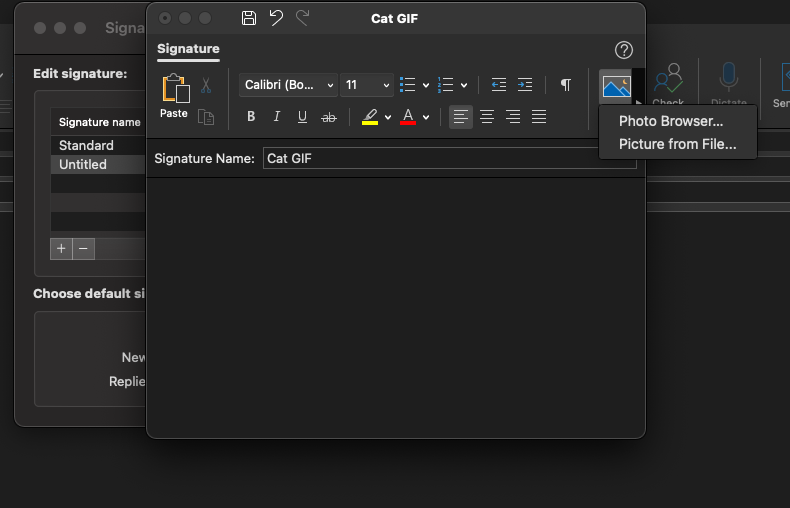 8. Under Choose default signature, set the following options for your signature:
-In the E-mail account list, choose an email account to associate with the signature. You can have different signatures for each email account.
-In the New messages list, choose the signature that you want to be added automatically to all new email messages. If you don't want to auto sign your new email messages, accept the default option of (none).
-In the Replies/forwards list, choose the signature that you want to be added automatically (auto sign) when you reply to or forward messages. Otherwise, accept the default option of (none).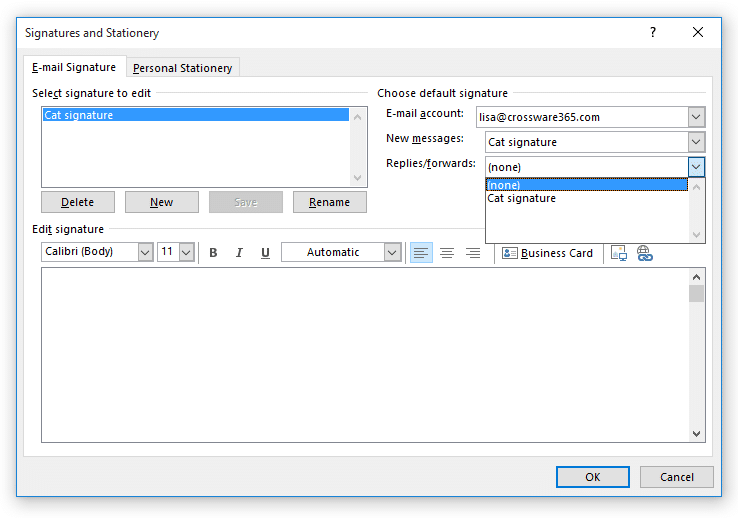 9. Under Edit Signature, add your GIF, type the rest of the signature, and then choose OK.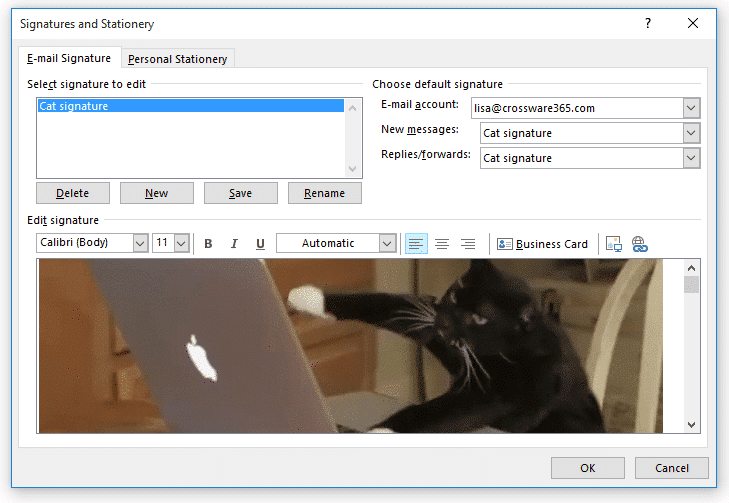 Adding the GIF to your Outlook Email Body
10. Click in the body of the email where you want the GIF to be placed.
11. Select Insert > Pictures (From File).

12. Find the GIF you saved earlier, and double click it to insert.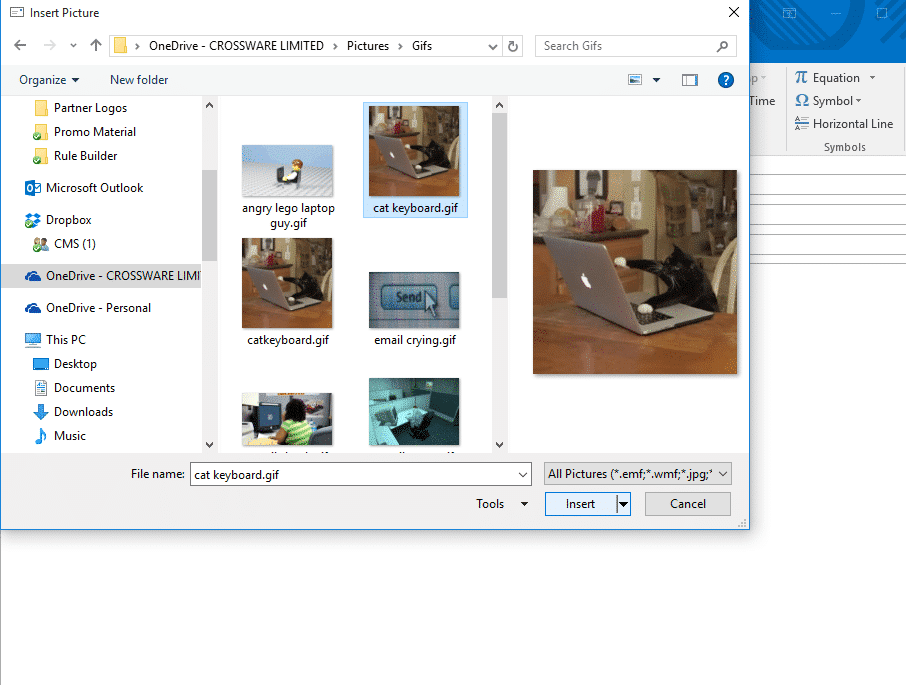 13. By now, you've probably realised that GIFs don't always play on Outlook, with some appearing as a still-shot rather than a continuous loop.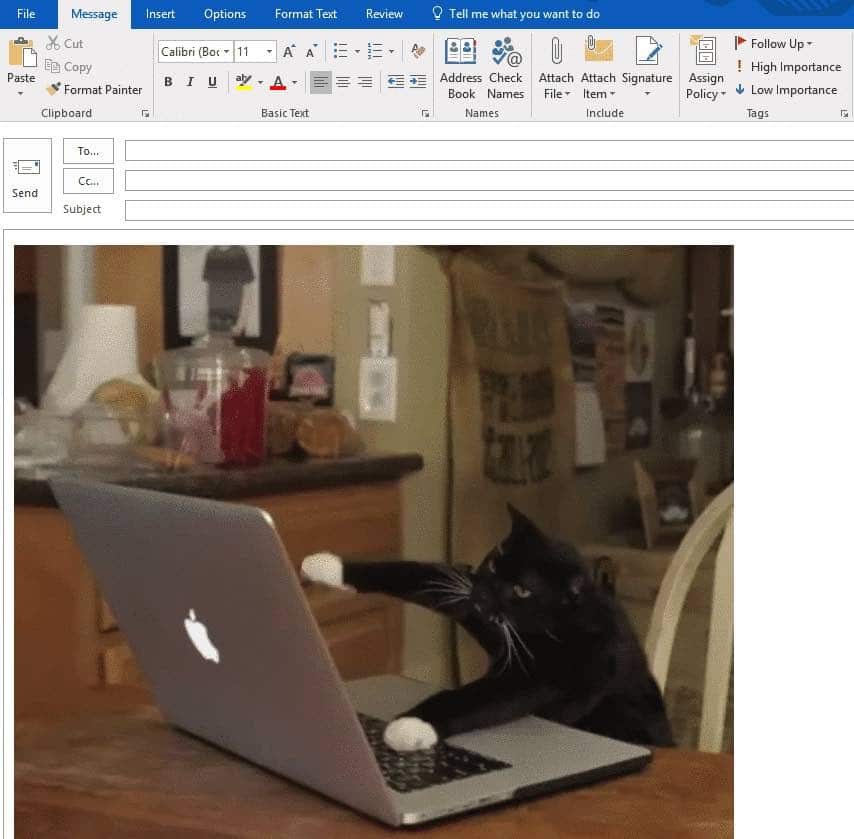 If you're having trouble getting your GIFs to play in Outlook, you're not alone. Some versions of Outlook have known issues with playing GIFs in emails.
UPDATE 06/2017 – After some updated research, we have confirmed that GIFs still have issues playing in Outlook 2007 onwards ? You can find the only workaround that we know of in the red link below. 
Check out our post on why your GIFs won't play for Outlook, for more help with this.
Awesome Tools for Adding GIFs to Your Emails
Giphy Add-in for Outlook
The Giphy for Outlook is a great little add-in that is "the best way to search, share, and discover GIFs on the Internet…". The add-in appears in your sidebar and let's you click and add as many GIFs as you'd like.
It lets you search a huge library that's ever expanding with user content, so you'll never run out of weird GIFs to share.
Compatibility
You must have an Office 365 of Exchange account to use this add-in. You will also need to be using Outlook 2013 or later, or Outlook on the web.
Check out this link to see if your version of Outlook is able to support add-ins like Giphy, it generally seems to be compatible with the newer versions.
Note: Giphy warns that the content may not be appropriate for kids under age 13 due to people freely uploading to the site.
Grab a copy here, from the Outlook store.
Crossware Mail Signature for Office 365 and Exchange
If you'd prefer a more customisable and flexible editor than the in-built Outlook editor, Crossware Mail Signature could be the tool for you. It lets you include GIFs and other elements like disclaimers, ad banners and social media icons in your emails.
CMS is an organisational solution, allowing you to specifically set up rules for when and where elements, including GIFs, appear on your email. No more manual additions of email signatures, they're automatically affixed in the Cloud each time you send an email.
Basically, this means that you can ensure that only your colleagues receive your GIF of a cat getting brain freeze, while your customers continue to think you're a highly professional individual.
These aren't just banished to the bottom of your email either; put them exactly where you want in the email (header, footer, etc.), in every email. Check out more info here.
Compatability
Crossware Mail Signature is compatible with Microsoft Office 365 and Exchange.
You can test it out for 30 days for free for your organisation, right here, right now.
Let us know if you have any tips on adding GIFs to your email signatures / emails below!