We live in a world of colour, imagination and innovation. Imagine a world in black and white, all advertisements whether in print, on television or online are black and white. The screen on your iPhone and laptop is black and white, even Facebook is black and white. Think of all the products and services that are marketed to you on a daily basis in black and white. I have two words for you, "Email Branding". Its time to make a difference.
What is Email Branding?
Email branding is a way of advertising your business in your emails. This is done through the use of branding elements such as corporate logos, website links, tag lines, colour and the overall appearance and feel that is seen on your company's website, newsletters, and overall brand image.
The below image displays all of the important features that should be included on your business email signature.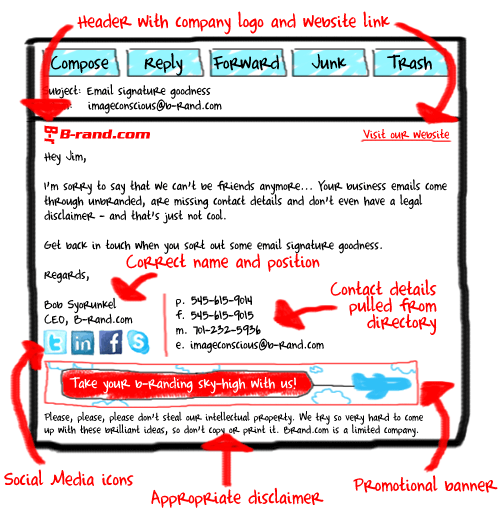 Why is Email Branding important?
FACT: Companies spend hundreds and thousands of dollars on advertising and brand building through television and print advertisements, business cards, logos and signage. However, when it comes to everyday emails, we're back to the black and white picture we imagined in the beginning.
With so much time and money spent on advertising and branding, why is so little spent on the one resource we use the most?
We never think twice about the emails we send on a daily basis. Lets do some quick maths to illustrate the effect everyday emails can have. With 10 people in a company sending 10 emails a day, in one year on a five-day work week, that company will be sending out over 25,000 emails! That is 25,000 pieces of written communication sent in black and white. This is the same as sending out 25,000 letters on plain white paper! What an incredible opportunity to miss!
Branded emails will turn your plain black and white emails into clear professional representations of your company. The impact your email will have on the receiver is unbelievable, email branding should be the mirror image of your company.
How to brand your emails
Just like your website, newsletters, brochures or business cards every email should include these key email branding elements:
Corporate logo(s)
Contact details for specific departments and individuals
Consistency – colour, imagery, font, disclaimers
Tag lines
Its time to ditch the black and white, add some colour to your everyday emails!
Learn how Crossware Mail Signature can help.