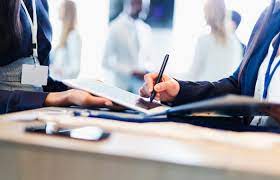 It has been a few months since Crossware Mail Signature for Microsoft 365 went live in the Ingram Micro Cloud Marketplace! Since partnering with Ingram Micro, one of the world's largest tech distributors, we have been working closely with Ingram Micro to get Crossware Mail Signature live on the popular marketplace.
What is Crossware Mail Signature for Microsoft 365?
Crossware Mail Signature for Microsoft 365 is a personalised email signature solution that seamlessly integrates with Microsoft 365.
Many departments are thrilled with this solution as it ensures compliance when sending email, is GDPR compliant and ISO certified, has marketing tracking capabilities and allows for communication to be relayed throughout departments or the whole organisation by way of an email banner.
With unique capabilities such as giving group-based non-admin access to email signatures and having email signatures available in the Outlook client through Dynamic Signatures Suite (another world-first), Crossware Mail Signature is Microsoft's Preferred Solution for Email Signatures and remains the only trusted premium option for Enterprise and SMEs.

It is the sole email signature solution available on the Ingram Micro Cloud Marketplace.
Why did Ingram Micro choose Crossware Mail Signature?
Trent Gomersall, Director of Ingram Micro Cloud in Australia commented that Crossware was chosen for its award-winning solution, long history in the market, experience with Microsoft and willingness to grow alongside Ingram Micro.
Thanks to the Crossware team's vast experience in creating email signature solutions with innovative and ever expanding features. Crossware launched their first email signature solution in 1999 and has developed a reputation for agile improvements and quick improvements to Crossware Mail Signature as market needs shifted.
Crossware's history with Microsoft was also an attractive reason for partnership.
Crossware is a Microsoft Gold Partner and has been awarded the title of Microsoft's Preferred Solution for email signatures.
Crossware has also had Crossware Mail Signature listed in the Microsoft Azure Marketplace since its launch, as well as being the first ever sale to be made in Microsoft AppSource.
Crossware's long history with Microsoft helped Ingram Micro see Crossware as a great partnership opportunity.
Why did Crossware list Crossware Mail Signature on the Ingram Micro Cloud Marketplace?
Partnering with Ingram Micro was an exciting move for Crossware to share Crossware Mail Signature with more organisations around the world. The Ingram Micro Cloud Marketplace offered the chance to leverage systems and efficiencies that only leaders in technology distribution could offer, as well as unparalleled channel and GTM support.
How to get access to Crossware Mail Signature for Microsoft 365
Partners of Ingram Micro can purchase Crossware Mail Signature right away by visiting the Ingram Micro Cloud Marketplace.