Create Branded Email Signatures

with
Crossware Mail Signature
Multiple Designs
Crossware Mail Signature allows for multiple Email Signature designs and banners for each user – just set the rules.
Tamper-Proof
Give specific users editing rights for your Email Signature designs and banners, but make them tamper-proof for everyone else.
All Devices
No matter where or what device your team sends Emails from, their beautiful Email Signatures will remain on-brand 
Crossware helps companies create professionally branded Email Signatures. Our centralised design tool gives your company full control over your email branding so that each email being sent highlights your company's brand and values.
Maintaining a consistent brand image is key to your company's success. In our digital society, emails have become integral to this process. Emails are the main form of online communication in the business world. Every day, your emails are read by clients, colleagues, partners and prospects. However, emails are more than a platform for sending messages. Like business cards, they're an opportunity to promote your company. This is made possible with signature branding.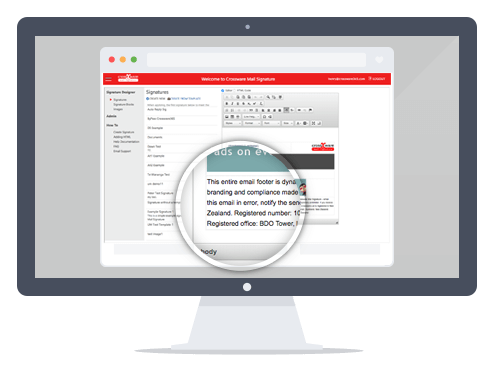 Why Implement Email Branding?
It's crucial to ensure your email signature branding is right. A sleek email signature helps to capture attention and bring awareness to your brand. Your company's logo and colours will instantly become more recognisable. A well-designed, branded signature with clear contact details will also make your company appear more professional.
Crossware simplifies the process of email branding. Our tools will help you ensure that each email you send is consistently branded with the right style and tone. Whether you start with a template or build one from scratch, you'll have full creative control. With a diverse choice of fonts and graphics, you can create the perfect branded signature.
Easily Manage Branding with Crossware
No matter what device you are sending from, a branded signature can be added to each email. Your personal details will be pulled from your directory and added to your signature – this will entice email recipients to visit your social media pages. Having your details conveniently included at the footer of each message will also make it easier for recipients to contact you. All of these factors help to highlight the professionalism and legitimacy of your company's brand.
Crossware also offers the flexibility to create multiple signature designs for different purposes. This means you can create unique email signatures for specific recipients and campaigns. Our award-winning software is suitable for a wide range of industries, including education, healthcare, construction, retail, finance and much more. Many of our customers create uniquely-themed signatures for different departments of their organisation. These helpful functions make Crossware much more efficient than your standard built-in email signature tool.
Start Managing Your Branded Email Signature Today
Crossware will save you and your organisation time and money on signature branding. Our free trial requires no credit card information and will give you full access to our software, along with a live demo and product walk-through. Sign up for 30 days free today.
Are You Ready To Get Started?