Create Email Disclaimers
with
Crossware Mail Signature
Correct Placement
Insert Disclaimers below the most recently typed text rather than at the bottom of the thread to ensure relevancy.
Tamper-Proof
Give specific individuals editing rights for your Disclaimer and make them tamper-proof for everybody else.
All Devices
Keep your Email Disclaimer compliant and consistent across all devices from the desktop to the iPhone and beyond.
Crossware helps organisations create and apply Disclaimers to internal and external Emails by making it a part of your Email Signature. With Crossware, you also have the option of creating different Disclaimers for separate departments of your organisation.
Why is an Email Signature Disclaimer important for your business? Email Signature Disclaimers can be used to ensure that emails leaving your organisation are legally compliant.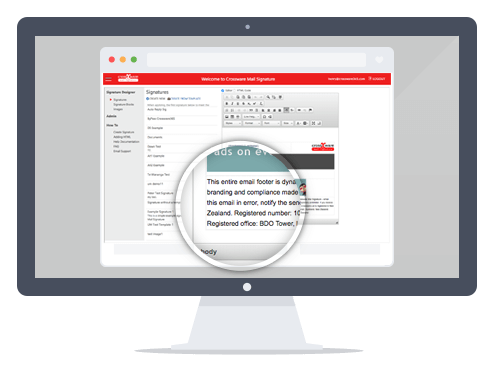 Why Should you Have a Signature Disclaimer?
Different countries have specific regulations in place regarding Email Disclaimers. For example, in the EU, business emails must include the organisation's name and registration details. Organisations in the EU who do not follow these rules may be penalised. Modern internet security is becoming stricter – even just a stray email, and organisations can be dealt some serious fines.
Fortunately, Crossware makes it easy for organisations to create a Disclaimer for emails, with the Disclaimer simply inserted below the most recently typed text. We offer internal and external settings for Email Disclaimers, meaning you can choose which recipients will see an email privacy statement at the end of your email. You will also have complete control over which individuals will have editing rights for your Disclaimers.
Manage Email Disclaimers with Ease
Crossware software is fully compatible with Microsoft Office 365, Microsoft Exchange, and HCL Domino. Crossware is also supported on all device types, from desktop computers to mobile phones – allowing you to keep your Disclaimers consistent no matter which device you send your email from.
Create an Email Disclaimer Signature with Crossware today. We offer a free trial for 30 days, which will give you full access to our software. You will also get a live demo and product walk-through. No credit card information is required for the trial. Fill out our free trial request form to get started.
Are You Ready To Get Started?