– the only Trusted Premium option for Enterprise & SMEs –
Preview
See how your Email Signatures will look before sending.
Insert
Simply click to Insert a Signature, or enable auto-insert for users.
Selectable
Choose from a selection of assigned signatures.
Dynamic Signatures for Microsoft Office 365 is the World's First Add-In for Email Signatures in Microsoft Outlook. Launched in 2019, Crossware has developed this product to exceed all expectations.
"Crossware Mail Signature have again led the way with their centrally controlled Email Signature Solution for Microsoft365. Scaling from a handful of users through to multi-national, multi-brand Enterprises, Crossware has proven why they are the tried and true solution for Email Signatures. This is an easy-to-use solution that any organisation can rely on and benefit from."
– Jake Zborowski, Microsoft GM BO&PM Management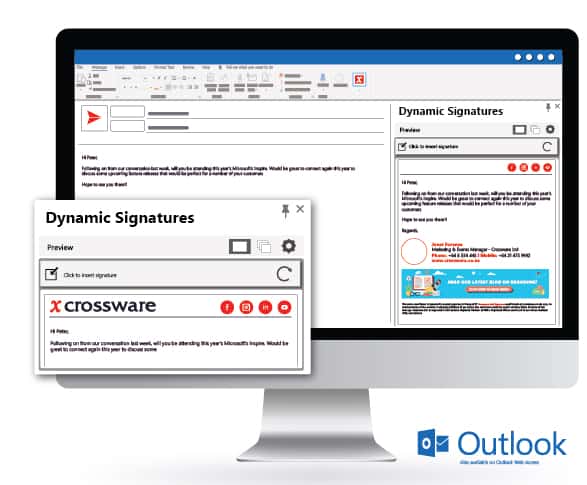 ✔ World's First
Launched in 2019, Crossware led the way with Dynamic Signatures – the original Add-In for beautiful Email Signatures for Microsoft Outlook.
✔ Microsoft's Preferred Solution
✔ Easy-To-Use
Simply load pre-approved Email Signatures onto your account to enable users within your organisation to Preview, Insert and Select their chosen Email Signature before sending.
✔ Secure
Crossware is a Microsoft Gold Partner as well as the trusted and Preferred Solution for Email Signatures for Microsoft 365. Crossware Dynamic Signatures Add-In for Microsoft Outlook adheres to all security measures that every organisation needs – from Enterprise to SMEs, this is the secure solution for beautiful Email Signatures for Microsoft Outlook.
Are You Ready To Get Started?