Following the success of the free Christmas email signature that we created, I thought it might be nice to also have a free Easter email signature available for download. The Easter holiday is celebrated in many different ways around the world. So I have created an HTML version so you can easily replace any imagery with your own.
Example
The following is an Easter email signature example that I found online. This example is just a banner image that can be added at the bottom of your emails.
For my design below, I prefer to have the image on the same level as the contact information. This means that the recipient won't actually have to scroll down to see the imagery.
The jumping Easter bunny is probably not the best image to have on your company email signature, so feel free to change it, or even completely remove it. I have also changed the social media icons to make them work with the Easter theme.
Free HTML Easter email signature
---
 Name
 Position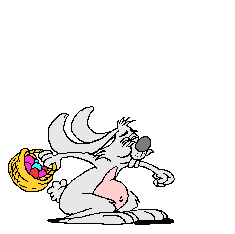 ---
There is no border on the downloaded version
With the HTML, you will be able to replace any images and edit the social media links to point at your own pages.
To download the HTML for the Easter email signature, complete the form below.