Frequently Asked Questions
about Crossware Mail Signature
Who is Crossware?
Crossware was originally founded in Denmark as an IBM Business Partner Services offering in 1992.
In 1999,  after an amazing holiday, our founders decided to move their lives, and Crossware, to New Zealand. Since then, Crossware has grown steadily into a team of dedicated IT professionals with a passion for email. We have established offices in the USA and UK, and expanded our services to Microsoft products, providing a market-leading email signature solution for Office 365, Exchange, HCL Domino, and HCL Smart Cloud Notes.
What is Crossware Mail Signature?
Crossware Mail Signature is an email signature application that simplifies the creation and maintenance of company email signatures. Sleek, compliant, and personalized email signatures are automatically added to each email, no matter what device you're sending from.
Crossware Mail Signature works for Microsoft Office 365, Microsoft Exchange, HCL Domino, and HCL SmartCloud Notes.
How does the Signature Centralisation work?
Crossware Mail Signature allows you to set up a centralised email signature template(s) for your entire organization.
Each time you send an email, your personal information is pulled dynamically from your directory into the email signature and your email signature is affixed according to your configuration settings.
Why do we need to manage our email signatures?
In our increasingly technologically advanced work lives, emails are often our main form of communication with partners, prospects, clients and colleagues.
Each email is not just an opportunity to send a message, it also offers a space for building your brand, advertising and engaging with your recipient. Email Signatures are the perfect space for this. They also offer a space for legal compliance, allowing you to ensure that everything your organization does is legally above board.
With Crossware Mail Signature, we allow your organization to centrally design and apply beautiful, custom email signatures for your email recipients that can help you to build engagement and awareness.
Why use it over the standard client email signature feature?
Using Crossware Mail Signature instead of the generic, built-in email signature tool has several advantages to you and your organization.
Save time and money by centralizing signatures across the company – branding, advertising, legal compliance and more changed all in one go.
Get signatures on your emails, no matter what device you send from (including mobile).
Flexibly create and apply different email signatures for different senders/recipients/dates/promotional campaigns.
No more relying on individuals to make updates.
Can different branches / locations / teams have different email signatures?
Yes, many of our customers set up various email signatures according to the different departments/divisions in their organizations. For instance, companies with one branch in New York and another in Los Angeles can have completely different signature configurations automatically applied.
These can be based on groups in your Address Book, domain names, or even based on conditional rules.
How is the software licensed?
There are two options for licensing:
Perpetual License – available for: Domino and Exchange
Subscription License – available for: Domino, Exchange & Office 365
Contact our Sales Team for more information via our Sales Enquiry form.
What are the server installation requirements?
All major Domino Server platforms from Version 8.0 and upward are supported, along with HCL Lotus Notes clients from Version 8.0 and above running on Windows/ Linux/ Macintosh. On Microsoft we support Exchange 2010, 2013, 2016 and Office 365.
How do I upgrade to the latest software version?
How do I install / access Crossware Mail Signature?
Start your journey off with 30 days of free exploration of Crossware Mail Signature by requesting a Free Trial for Office 365, Exchange, SmartCloud Notes or Domino.
We'll walk you through the simple installation process (for Exchange and Domino) or connecting your environment to our services (for Office 365).
Once your trial is activated and ready to go, you can start designing and creating your company email signature(s), making them as simple or as complex as you want and adding rules for their application.
Who uses Crossware Mail Signature
Companies from a huge number of industries use Crossware Mail Signature – Education, Healthcare, Construction, Food & Beverage, Finance and Insurance, Automotive, Charity, and Retail.
Our customers have anywhere between 1 and 30,000 users. We have over 2,000 customers using Crossware Mail Signature, totaling over 1,000,000 individual email users.
What support is offered?
We offer 24 hour email support for all Crossware Mail Signature customers with a valid Software Maintenance and Support Agreement or current Subscription.
We also offer additional paid services to help out with design changes, platform migration and more. Contact us to find out more about our services.
Can I add different signatures for internal / external recipients?
Yes, you can.
There's no need to create two different signatures for internal and external recipients: instead, you can simply apply internal/external settings on your signatures depending on whether recipients are internal or external to the company.
For instance, if you want a signature that showcases your contact information to everyone, but only shows a legal disclaimer to external recipients.
What clients are supported?
Crossware Mail Signature is client independent, as it is installed on the server (or Office 365 cloud); therefore all devices and clients that send email via your mail server are supported.
How much does Crossware Mail Signature cost?
Crossware Mail Signature is competitively priced. It is licensed on a per user basis, where a user is defined as any mail file that requires a signature.
What happens if we migrate to another email platform?
Many of our clients are concerned about losing their signature configurations when they move to a new email platform. Don't worry – we offer a supportive environment for migration. If you are on a subscription pricing plan, you can easily move between our products at no extra cost.
If your company decides to migrate to many of our supported platforms, contact your local Crossware Sales Manager to discuss the migration process.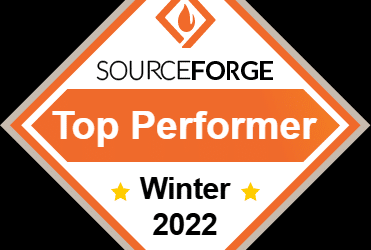 Crossware is proud to be a winner of the Top Performer award from SourceForge, the world's largest software reviews and comparison website. 12th January, 2022 – Crossware, today announced that it has been awarded a Winter 2022 Top Performer Award by SourceForge, the...
Are You Ready To Get Started?